Department of Obstetrics & Gynecology
Late Baliram Kashyap Memorial Govt. Medical College Jagdalpur, CG
Introduction : Department of Obstetrics & Gynecology started in year 2006. It is a MCI recognized 60 bedded department. The department provides comprehensive health care to women through daily OPD, special clinics like cancer clinic, antenatal clinic, post natal clinic, adolescent health clinic and 24 hours emergency obstetric care.

Facilities :
:: OPD Facilities
 Antenatal clinic daily, high risk pregnancy care.
 Post natal clinic & family welfare.
 Ante partum surveillance by ultrasound & non stress test.
 Gynecological checkup & care.
 Cancer OPD, Pap smear.

:: Facilities in PPOT
 MTP, Tubectomy.
 Laproscopy Tubectomy (LTT).
 Counseling & Provision of condom, oral pills, IUCD, injectable contraception.
 Endometrial & cervical biopsy.

:: Indoor Facilities
 Two units available. No. of beds for each unit-30 beds. There is 24 hours functioning labour room & caesarean OT.
 Facilities for LSCS & Complicated obstetric surgeries.
 Facilities for admission & management of common gynecological problems.
 Facilities for major gynecological operation including abdominal & vaginal hysterectomy.
 Ovarian cystectomy, myomectomy & plastic surgeries like tuboplasty.

:: PPTCT Centre
 Prevent HIV transmission from mother to child.
 Free counseling & testing.
 ART centre.


Available Equipment :
• Well equipped labour room.
• Obstetrics & Gynecological OT.
• Colour Doppler sonography & portable sonography machine.
• Laparoscopy instrument.
• Cardiotocography machines.

Achievement & Research : Faculties of the department are regularly participating in national & State government programmes organized by government & NHRM for in service doctors, RMA, AMO, Staff nurse, LHV & ANM.

1. BEMONC & EMONC training.
2. SBA Training.
3. PPIUCD & Comprehensive IUCD training, Injectable Contraception training.
4. Newer guidelines in maternal health & MDR.
5. CAC training.
6. LSCS training for surgeons.
7. DAKSHTA (Skilled lab training)

Courses :
 MBBS
 DNB courses in obstetrics & Gynecology. Which started in January year 2012. Our institute is accreditated for 03 primary, (Post MBBS) DNB and 03 secondary (Post diploma) candidates every year in January session.

Symposium/Seminar/Publication :
 Regular seminars weekly are conducted in the department.
 Department has conducted various workshops and CME's.

List of Faculty : Department HOD & Faculty Details


Following Table Shows The Faculties in Department of Obstetrics & Gynecology.

Name
Designation
Qualification
Contact No
Email Id
Dr. Alpana Bansal
Professor and Head
MBBS, MD, DGO
99261-72091
dralpanabansal@gmail.com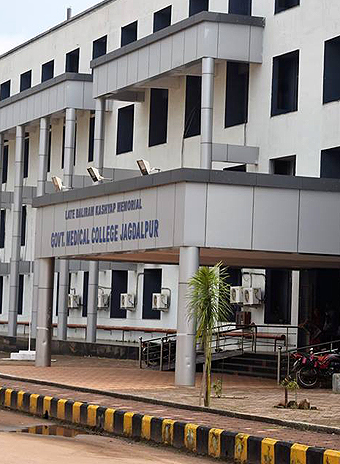 Our
Departments
Facilities Available in Department
Late Baliram Kashyap Memorial Govt. Medical College, Jagdalpur, CG
Anaesthesiology
Department of Anaesthesiology and Critical Care.
Facilities available to administor general anaesthesia regional anaesthesia, BLS & ACLS, managements of emergency cases.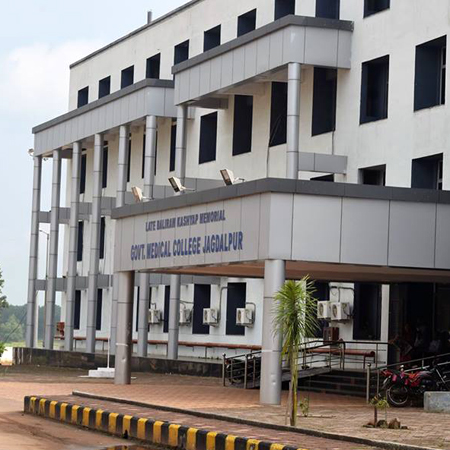 Community Medicine
As per Medical Council of India medical education programme is designed with a goal to create an "Indian Medical Graduate" possessing requisite knowledge, skills, attitudes, values and Responsiveness, so that he or she may function appropriately and effectively as a physician of First contact of the community while being globally relevant.
Concurrent with above goal Institute & Department have identified three pillars to conceptualize the IMG into Reality.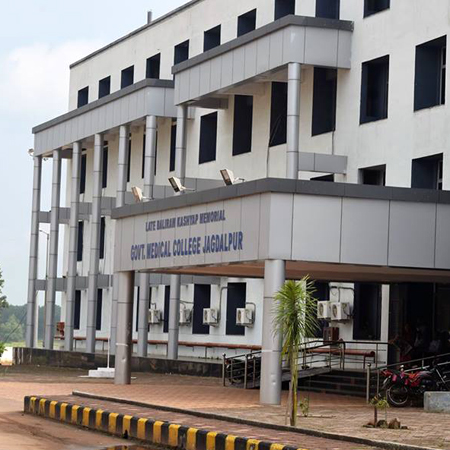 Biochemistry
The Department of Biochemistry is engaged in high quality teaching facilities with eminent faculties that makes the medical undergraduate students compatible with all latest scientific developments.
This department also provides patient care by investigating biochemical tests in the clinical laboratory with modern updated instruments operated by trained & skilled personnel.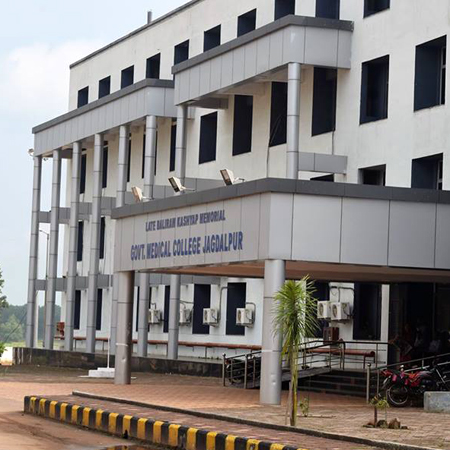 Obstetrics & Gynecology
Department of Obstetrics & Gynecology started in year 2006. It is a MCI recognized 60 bedded department.
The department provides comprehensive health care to women through daily OPD, special clinics like cancer clinic, antenatal clinic, post natal clinic, adolescent health clinic and 24 hours emergency obstetric care.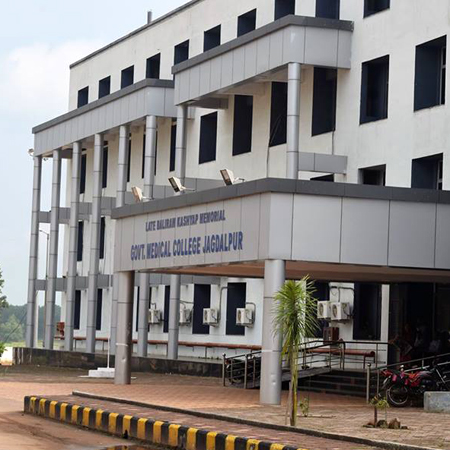 Pathology
Department of Pathology Late Baliram Kashyap Memorial Govt. Medical College, Jagdalpur established in year 2007.
We have undergrduate teaching course in MBBS and Certificate course for Laboratory Technician. Besides this, facility for laboratory service for both indoor and outdoor patients available.