About Institute
Late Baliram Kashyap Memorial Govt. Medical College Jagdalpur, CG
Government Medical College Jagdalpur India now known as Late Baliram Kashyap Memorial Government Medical College, Dimrapal, Jagdalpur India This was effort made to introduce excellence in health care facilities to tribal people in district Bastar.

The College is associated with 500 Bedded Hospital of Late. Baliram Kashyap Memorial Govt. Medical College Hospital, Jagdalpur. Hospital Building Existence in the College Campus. Hospital Building Inaugurated by Hon'ble President of India, Shri Ramnath Kovind Ji on July 26, 2018.

Our Medical College was established in year 2006 and Government Medical College Jagdalpur was a dream project of our honorable Chief Minister Dr Raman Singh who also seized the gracious opportunity of inaugurating our institution on 28th august 2006. National Mineral Development Corporation (NMDC) has provided remarkable contribution towards development of our Medical College and Hospital.

Our Institution proved to be a milestone in endowment of basic and advanced health care facility in Bastar as it happens to be the only terminal health care centre in the radius of 300 kilometers. We are bound to provide basic as well as advanced health care with sincerity and excellence and establish our institution as a expendable terminal health care center.

Government Medical College Jagdalpur was affiliated with Pandit Ravishankar Shukla University since the year of its inception. Government Medical College Jagdalpur was renamed as Late Baliram Kashyap Memorial Government Medical College in year 2013 after our honorable leader Late Baliram Kashyap. At present the college is affiliated with Pandit Dindayal Upadhyay Memorial Health Sciences and Ayush University Raipur.

Our Pioneer batch was Batch 2006 with 50 MBBS students and all the students of this batch and forthcoming batches have gained knowledge and experience from our institution. In year 2013 we got permission for 100 MBBS students. We are proud to have given good doctors to our society. Our students achieve remarkable success in university professional examination as well as post graduate entrance examination. Our students define our success as a good medical intuition in their behavior as dependable doctors. We aim to grow as one of the leading medical institutions in India.

Lord 'Dhanvantri' says in the above Sanskrit quote from the book 'Charak Sahinta' meaning.

"Treating the sick never goes without rewards. Your either earn money or friendship or goodness or name & fame. If you earn none of these, still you earn valuable experience."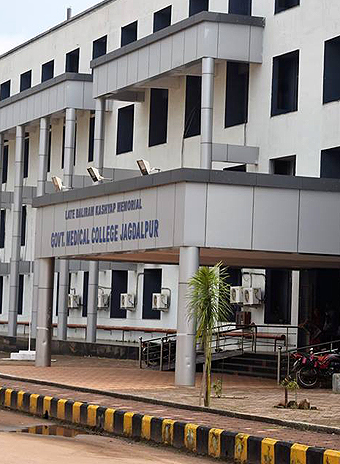 Our
Departments
Facilities Available in Department
Late Baliram Kashyap Memorial Govt. Medical College, Jagdalpur, CG
Anaesthesiology
Department of Anaesthesiology and Critical Care.
Facilities available to administor general anaesthesia regional anaesthesia, BLS & ACLS, managements of emergency cases.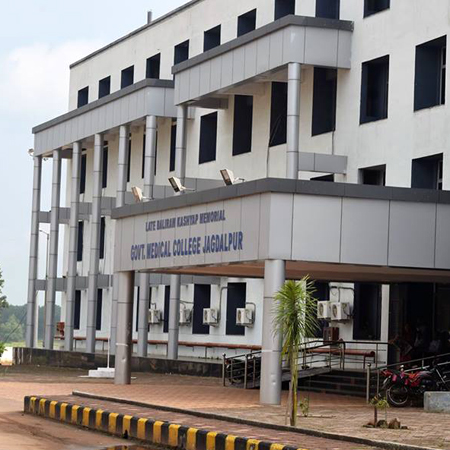 Community Medicine
As per Medical Council of India medical education programme is designed with a goal to create an "Indian Medical Graduate" possessing requisite knowledge, skills, attitudes, values and Responsiveness, so that he or she may function appropriately and effectively as a physician of First contact of the community while being globally relevant.
Concurrent with above goal Institute & Department have identified three pillars to conceptualize the IMG into Reality.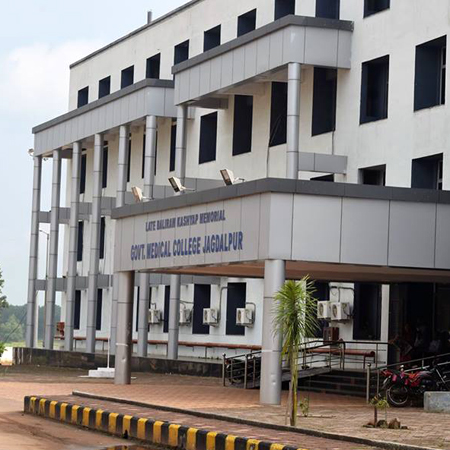 Biochemistry
The Department of Biochemistry is engaged in high quality teaching facilities with eminent faculties that makes the medical undergraduate students compatible with all latest scientific developments.
This department also provides patient care by investigating biochemical tests in the clinical laboratory with modern updated instruments operated by trained & skilled personnel.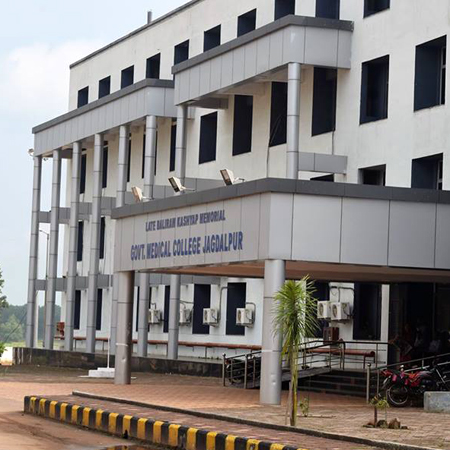 Obstetrics & Gynecology
Department of Obstetrics & Gynecology started in year 2006. It is a MCI recognized 60 bedded department.
The department provides comprehensive health care to women through daily OPD, special clinics like cancer clinic, antenatal clinic, post natal clinic, adolescent health clinic and 24 hours emergency obstetric care.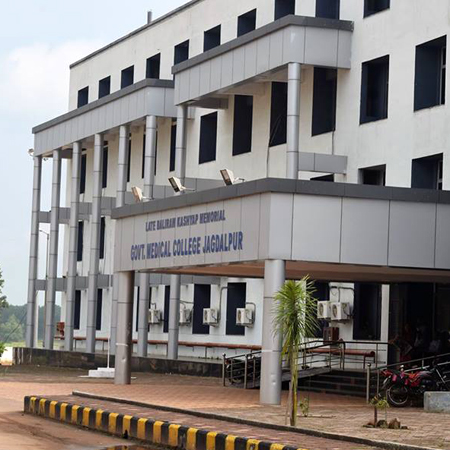 Pathology
Department of Pathology Late Baliram Kashyap Memorial Govt. Medical College, Jagdalpur established in year 2007.
We have undergrduate teaching course in MBBS and Certificate course for Laboratory Technician. Besides this, facility for laboratory service for both indoor and outdoor patients available.