Anti Ragging Committee
Late Baliram Kashyap Memorial Govt. Medical College Jagdalpur, CG
Anti Raging Committee Members Detail & Helpline No :


Following table shows the Anti Raging Committee Members.

S No
Name of The Member
Designation
Contact No
1
Dr. Ashok Chandrakar (DME)
State Authority
0771-22334451, 9827159891
2
Dr. U.S. Painkara (Dean)
Head of the Committee
9425212500
3
Mr. Dhananjay Dewangan, IAS
(Deputy Collector)
District Authority
07782-222693
4
Mr. Arif Shaiekh
Superintendent of Police (SP)
07782-222336
5
Mr. S.R. Kurrey (SMD)
District Authority
8959544733
6
Dr. B.P. Tikariha
Faculty Members
9424227401
7
Dr. Avinash Meshram
Faculty Members
9826572260
8
Dr. A.S. Thakur
Faculty Members
9424169349
9
Dr. Sanat Sharma
Faculty Members
9425511211
10
Dr. Smt. Sunita Meshram
Faculty Members
9926122504
11
Dr. Teeku Sinha
(I/c Student Section)
Faculty Members
9827999065
12
Dr. Suresh Kumar Dwivedi
Faculty Members
9893147368
13
Dr. Navin Dulhani
Faculty Members
9425261025
14
Dr. Sameer Kumar Painkra
Faculty Members
7746006463
15
Dr. Q. H. Khan (Chief Warden)
Hostel Warden
7746006463
16
Dr. Raj Sharma (Warden Boys)
Hostel Warden
9826023349
17
Dr. Smt. Bithika N. Kumar (Warden Girls)
Hostel Warden
9826121819
18
Dr. Deepika Dhruw (Warden Girls)
Hostel Warden
7879552995
19
Dr. Virendra Thakur, CMHO Sukma
Parent Representative
9424281947
20
Miss Isha Kumar Khobragade
Representative of Fresher Students
9827481672
21
Mr. Hiteshwar Marshall
Representative of Fresher Students
7879025897
22
Miss Shruti Choubey
Representative of Senior Students
9981331400
23
Miss Sakshi Sahu
Representative of Senior Students
9407984503
24
Mr. Tejas Shrivastava
Representative of Senior Students
9424110584
25
Miss Ayushi Jadhav
Representative of Senior Students
9977115480
26
Mr. Shakeel Ahmad
Advocate
9977115480
27
Mr. Vijay Kumar Dewangan
Representative of Non Teaching Staff
8964868120
28
Smt. Khilesh Ghritlahare
Representative of Non Teaching Staff
9302453896
29
Mr. Kamal Mandavi
Representative of Non Teaching Staff
9901777057
30
Mr. Devnarayan Sahu
Representative of Non Teaching Staff
8827334334
31
Miss Pooja Jha
Representative of Non Teaching Staff
8109565330
32
Mr. Yogendra Thakur (NaiDunia)
Local Media
9406074032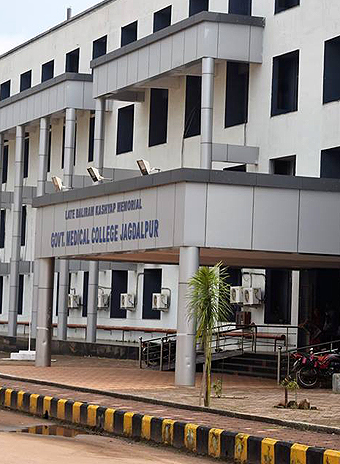 Our
Departments
Facilities Available in Department
Late Baliram Kashyap Memorial Govt. Medical College, Jagdalpur, CG
Anaesthesiology
Department of Anaesthesiology and Critical Care.
Facilities available to administor general anaesthesia regional anaesthesia, BLS & ACLS, managements of emergency cases.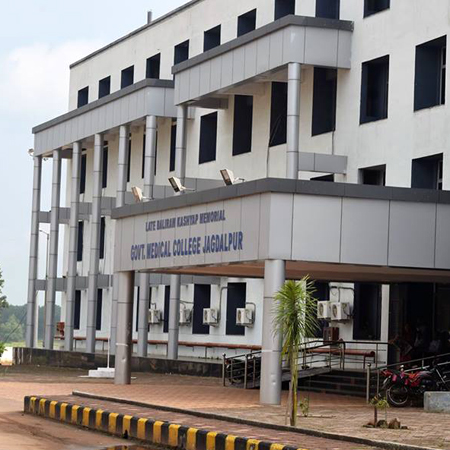 Community Medicine
As per Medical Council of India medical education programme is designed with a goal to create an "Indian Medical Graduate" possessing requisite knowledge, skills, attitudes, values and Responsiveness, so that he or she may function appropriately and effectively as a physician of First contact of the community while being globally relevant.
Concurrent with above goal Institute & Department have identified three pillars to conceptualize the IMG into Reality.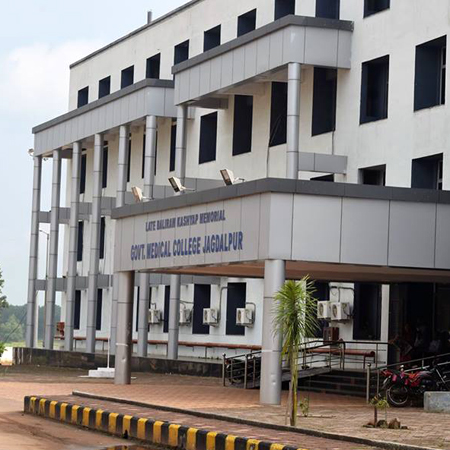 Biochemistry
The Department of Biochemistry is engaged in high quality teaching facilities with eminent faculties that makes the medical undergraduate students compatible with all latest scientific developments.
This department also provides patient care by investigating biochemical tests in the clinical laboratory with modern updated instruments operated by trained & skilled personnel.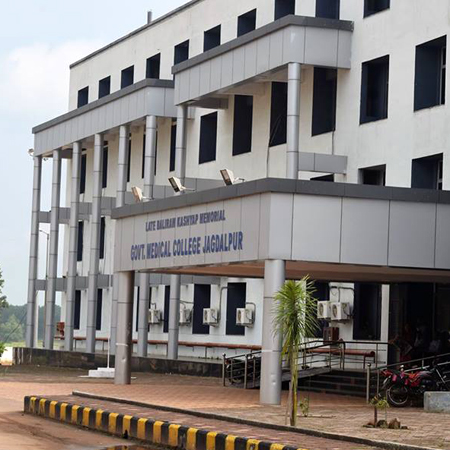 Obstetrics & Gynecology
Department of Obstetrics & Gynecology started in year 2006. It is a MCI recognized 60 bedded department.
The department provides comprehensive health care to women through daily OPD, special clinics like cancer clinic, antenatal clinic, post natal clinic, adolescent health clinic and 24 hours emergency obstetric care.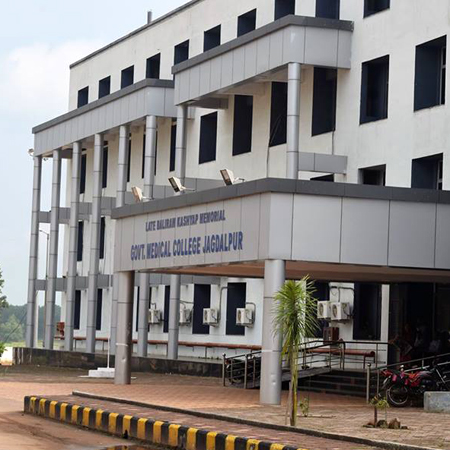 Pathology
Department of Pathology Late Baliram Kashyap Memorial Govt. Medical College, Jagdalpur established in year 2007.
We have undergrduate teaching course in MBBS and Certificate course for Laboratory Technician. Besides this, facility for laboratory service for both indoor and outdoor patients available.